The Suspense Won't Kill You, Texting Will
Clear Channel Outdoor Saving Lives
VICKY CHEN, Corporate Marketing & Communications Intern,
Clear Channel Outdoor
Distracted driving took the lives of 3,166 people in 2017. Research shows texting while driving increases the risk of a teen vehicle crash by 23 times, and is the leading cause of teen deaths. One in three teens who text said they have done so—while driving. This is why Clear Channel Outdoor has partnered with Project Yellow Light and the Ad Council for the fourth year in the effort to #StopTextsStopWrecks.
Project Yellow Light hosts an annual nationwide scholarship competition calling for students to create a TV, radio or billboard PSA to educate the public about the dangers of distracted driving. Scholarships of up to $5,000 are awarded to those who create the most captivating PSAs promoting safe driving habits. This year, 2,709 students vied for the scholarship awards, a 69% increase from 2018!
On June 7th, this year's winners in the billboard category saw their work premiere live in Times Square, with family, friends and sponsors who flew in from across the country  to show their support. Winning High School Billboard: Sydni Silverstone, San Diego, CA

"Project Yellow Light has not only allowed the youth to openly express their voice and creativity, but has also paved the way for them to leave a lasting impact on our community," said Mary Zost, Campaign Manager, the Ad Council.
Winning College Billboard: Alyssa Loffredo, South Salem, NY

"It is inspirational to see young students and our amazing partners coming together for a single purpose: to prevent future tragedies by educating people about the dangers of distracted driving," said Julie Garner, Project Yellow Light founder.
Project Yellow Light is a student-driven scholarship competition that is designed to bring about social change. Project Yellow Light was created after the tragic loss of 16-year-old Hunter Garner, who died in a car crash on June 10, 2007. His mother, Julie Garner, has worked tirelessly to promote safe driving habits and anti-texting campaigns through the Project Yellow Light/Hunter Garner Scholarship. The goal of this competition is to give students the opportunity to use their voice and the power of media to save lives.
Below, Emmy-award winning journalist Alex Denis from CBS2 New York who has been Project Yellow Light's official ambassador for the past two years, with Julie Garner.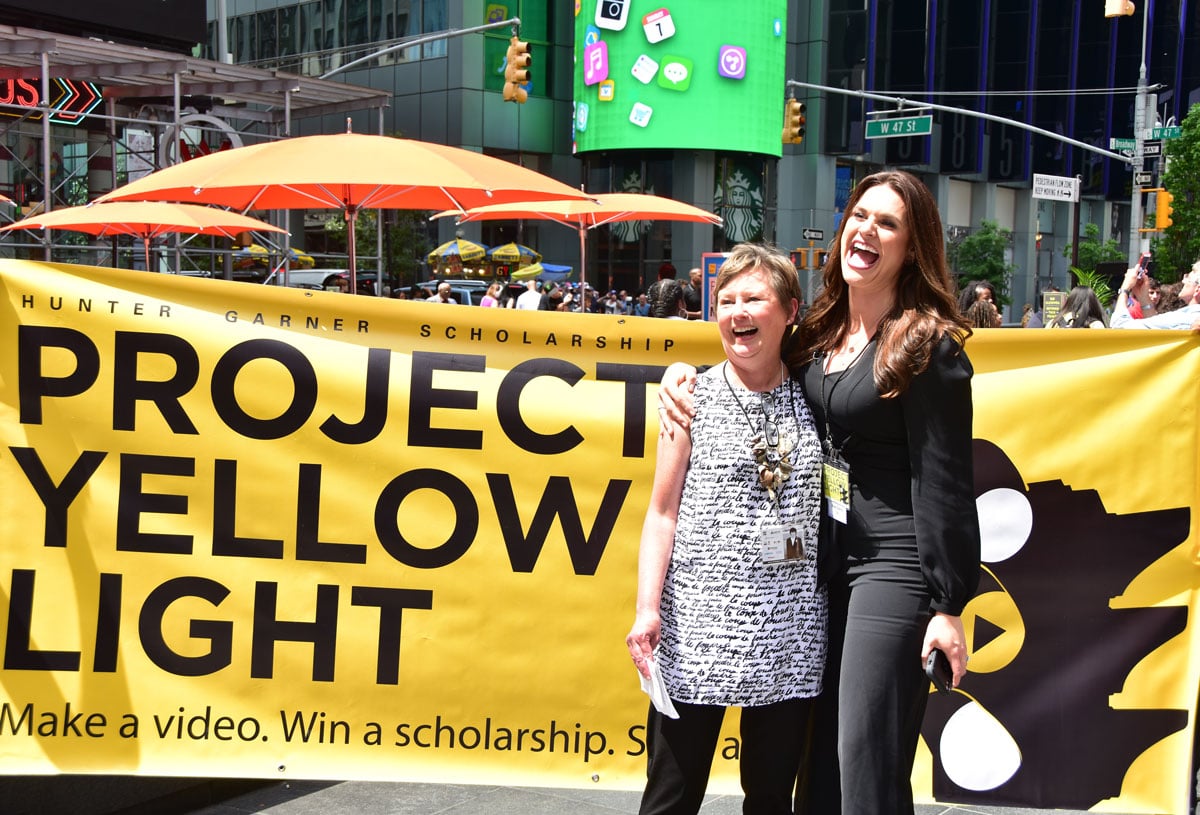 Denis, who closes every broadcast with "Be safe. Don't text and drive," also supports Project Yellow Light through social media, PSAs and on-air mentions.
Entries were judged by top industry experts including Wendy Clark (CEO, DDB North America), Jeff Goodby (Co-Chairman & Partner, Goodby Silverstein & Partners), recording artist Aloe Blacc, and global safe driving advocate Kweku Mandela. See all the winning Project Yellow Light entries, including those that submitted video and radio spots.
At Clear Channel Outdoor, we are honored to be involved in such a powerful cause that raises awareness to save lives. By using our out-of-home platform, we hope to share these lifesaving messages with as many people as possible. We are incredibly proud of the students and all the Project Yellow Light partners (AT&T, Apparent Insurance, CBS2 New York, Elephant Insurance, iHeartMedia, National Organizations for Youth Safety, and NHTSA) for working together to prevent future tragedies. Please remember no one likes a distracted driver.