Outdoor Advertising for Key Events: Top 10 Places You Want to Be Seen
Outdoor Advertising for Key Events:
Top 10 Places You Want to Be Seen
by Rodolfo Queiroz,
Associate Media Director, Dash Two
Every April, it's wall-to-wall coverage of Coachella. Just like South by Southwest captures all the attention in March and all the talk in January focuses on the Grammys. It seems like every month there's a big event that hijacks social media buzz and generates new hashtags.
Savvy companies recognize these "see and be seen" moments as opportunities. If you advertise at big-time events, you reach more than just those who snag tickets to the experiences. You can also connect with the people who read about them on social media.
Here are 10 can't-miss events you will want to advertise at in 2020 and beyond
1. Art Basel
Art Basel is an annual art fair that began in the 1970s. It's held in both Miami Beach and Hong Kong, and both attract tens of thousands of visitors each year. Exhibitors push boundaries with lavish displays that challenge traditional aesthetics and get people talking. You know, stuff like dozens of naked people laying in the street. (What, it's art.)
Art Basel outdoor advertising opportunities: Many of our clients opt for wild posting around the Wynnwood District, the central part of Miami's art scene. You can use standard bulletins and wallscapes to target tourists downtown, and don't forget about the area's free trolleys — trolley ads are a great place to reach people on the way to an exhibit or back to the hotel.
Advertisers need to be okay with controversial content, obviously, as well as unpredictable artists. Opportunities include official partnerships with Art Basel.
Art Basel dates: Miami Beach, Dec. 5 to 8, 2019; Hong Kong, March 19 to 21, 2020
2. Fashion Week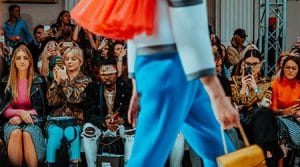 There are many Fashion Weeks held around the world, but nothing quite holds a candle to New York Fashion Week. The annual event, which just wrapped up, is a one-week showcase of the fashion world's most cutting-edge designs, where brands present runway shows to buyers and try to get hot celebrities to look interested in their stuff.
NYC Fashion Week outdoor advertising opportunities: There's so much going on around Fashion Week, it's not hard to find a place to reach a big audience. Wild posting is popular for this event. Another great format for fall is chalk stencils on sidewalks near Fashion Week venues (not a great option in winter, though, because snow can cover or wash away the stencil).
You can also chase official sponsorship for a guaranteed, and more expensive, reach.
NYC Fashion Week dates: Feb. 6 to 13, 2020; Sept. 11 to 16, 2020
3. Grammys
The Grammy awards ooze cool in a way some other high-profile awards shows don't. If you want to reach a younger crowd than will turn out for, say, the Emmys or Oscars, the Grammys are the best bet. You'll find tons of billboards in Los Angeles trying to reach Grammy voters and attendees throughout the run-up to the ceremony. On the big day, parties abound in LA and in New York — great opportunities for non-official sponsors to be seen by partiers.
Grammys outdoor advertising opportunities: Billboards are the most effective form of advertising in Los Angeles and NYC. Target Times Square in the latter and Hollywood and the downtown area with the former. Clients also target country music capital Nashville during the Grammys with bulletins.
Grammys date: Jan. 26, 2020
4. Coachella
One of the world's best-known and most successful music events — it regularly draws some 250,000 people — Coachella has become a place for top artists to be seen. Headliners range from Madonna to Beyonce, and the festival draws media coverage for months leading up to and following the big week, meaning more attention for advertisers, too.
Coachella outdoor advertising opportunities: There's one main entryway to Coachella, and securing a billboard on that road is the most effective way to connect with festival attendees.
See what we did for Lady Gaga at Coachella as an example of smart, attention-grabbing advertising.
Coachella dates: April 10 to 19, 2020
5. South by Southwest
People fly south to Austin, Texas, each March to get away from East Coast slush and preview the coolest things on the horizon in movies, music, tech and more. SXSW has grown every year since its 1987 inception, and so many brands want a presence, you can find a lot of innovative ideas to stand out from the crowd.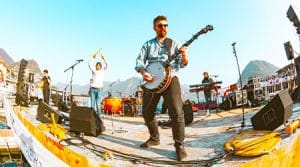 SXSW outdoor advertising opportunities: There are official opportunities, yes, but you'll get more eyeballs by staging something elsewhere in Austin, targeting festival goers in unique ways near the cool hotels and restaurants they frequent. We can help you generate ideas, such as:
Advertising on popular pedicabs that transport people between venues
Billboards downtown
Advertising in the Austin airport, where everyone flies in for the festival
SXSW dates: March 13 to 22, 2020
6. Lollapalooza
The alternative festival arose with the grunge movement in the '90s, and after several reboots and recalibrations, the one-time touring concert morphed into a four-day event at Chicago's Grant Park. The Lollapalooza lineup features more than 170 bands on eight stages, with big names such as Ariana Grande and Childish Gambino helping smaller acts get exposure, too.
You can sign up as an official sponsor of the festival, putting up an experiential tent or getting a plum social media shout-out. But Chicago also has other ways to get in people's faces on their way to and from the concerts.
Lollapalooza outdoor advertising opportunities: There aren't billboards available leading into this festival, so brands should target billboards and wild posting downtown and in the northern part of Chicago.
Lollapalooza dates: July 30 to Aug. 3, 2020
7. Pitchfork Music Festival
Another Chicago music festival — why not target the Midwest all month — Pitchfork is also held in July over a weekend, and it features a cool record fair where music nerds gather to trade. The crowd is big (50,000) but less broad than Lollapalooza, which will appeal to advertisers targeting a smaller niche.
Pitchfork Music Festival outdoor advertising opportunities: Same as Lollapalooza—consider wild posting and billboards downtown and in the northern part of the city.
Pitchfork Music Festival dates: TBA for 2020
8. Bonnaroo Music and Arts Festival
Head into the country for the four-day Bonnaroo music fest, where a huge range of musical genres converges along with 80,000 fans. Jay Z has played here as well as Phish, Eminem, the White Stripes and even, huh, the Beach Boys. It takes place on hundreds of acres in Tennessee, and brands can stake out a claim in Centeroo, which is open 24/7, or find other ingenious ways to connect.
Bonnaroo Music and Arts Festival outdoor advertising opportunities: Manchester, Tennessee, where the festival is held, is about an hour outside Nashville, where advertisers can reach Bonnaroo attendees with bulletins and wall murals, which are fairly cheap in the city.
Bonnaroo Music and Arts Festival dates: June 11 to 14, 2020

9. Electric Daisy Carnival
EDC is the annual electronic dance music festival dating back to the 1990s. Its flagship festival takes place in Las Vegas, though it has expanded to Orlando, Mexico City, Tokyo and more. The Vegas concert draws upwards of 230,000 people, with past performers including Afrojack, Yellow Claw, Calvin Harris and more.
Electric Daisy Carnival outdoor advertising opportunities: Billboards are king in Vegas. Get them leading into the festival on I-15 and near the Las Vegas Speedway.
Electric Daisy Carnival dates: May 15 to 17, 2020
10. Super Bowl
Yeah, we don't have to explain what this one is. Suffice to say, the whole country focuses on whatever city is lucky enough to host the Super Bowl each year. In 2020, it takes place in Miami.
Super Bowl outdoor advertising opportunities: Since the Super Bowl rotates cities, each year presents new opportunities. But generally, we recommend any kind of billboards or transit advertising downtown or near the sports complex where the game is held.
Super Bowl date: Feb. 2, 2020