Blip Billboard's GlobalWave Promotes Unity and Joy
First omnichannel challenge-style campaign seeks to create global solidarity
Just in time to kick off the fall football season, Blip Billboards is introducing the #GlobalWave, a sports stadium-style wave gone digital. Blip will be riding the wave on our over 1,800 digital billboards as our customers, friends, families and others across the world join from their social media accounts with their best wave using #GlobalWave.
Why a Global Wave, you may ask? To put it short, it's no secret that the world is in a weird place right now, and we could all use a little positivity and solidarity. Our goal is to spread FUN, JOY and UNITY throughout the world. What better way to bring everyone together than with a wave that goes across the globe, no matter what time zone you're in!
Curious how to get involved? It's easy! Whip out that phone, take a photo or video of you, your friends, your co-workers, whoever! Post it with the #GlobalWave, and join the wave as it sweeps across the globe. And for our friends that aren't big on posting their videos or photos on social, find your best gif!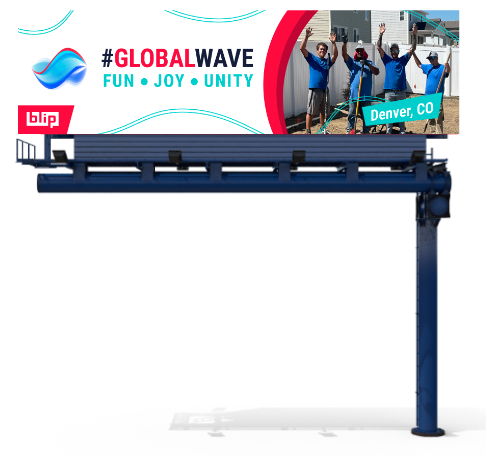 Blip Billboards allows small- and medium-sized businesses to achieve greater flexibility, geographic reach, mass visibility, and more billboard campaign control than ever before by making billboards accessible to anyone, anywhere, with any budget. Learn more at www.blipbillboards.com