A Blueprint for Building Your Digital Out of Home Strategy
Written by Kim Knapp,  Billups
Digital out-of-home, or DOOH, advertising can be extremely advantageous for your company. To fully realize the benefits, it's critical to create a DOOH strategy that takes advantage of every tool at your disposal. A solid strategy maximizes your return on investment and allows you to overcome challenges innate to the advertising process.
To make sure your message reaches the right people, follow this blueprint for creating your own DOOH strategy.
What Is DOOH Advertising and How Does it Work?
To understand the value of digital OOH advertising, it is necessary to examine its opposite.
Traditional advertising is familiar to today's consumers. It includes ad campaigns that may appear in any of the following formats:
Radio
TV
Newspaper
Magazines
Direct mail
Although these techniques laid the foundation for the digital advertising solutions you have today, they also have certain gaps in coverage. Traditional advertising is still relevant in the modern world, but pain points like lead times and limited creative messaging inspired advertisers to look for additional ways to share messaging.
DOOH advertising, on the other hand, is quick and versatile. It can be turned on in less than 24 hours and allows you to distribute multiple messages across multiple channels. Like traditional messaging, it's also an effective way to communicate with your audience at the appropriate times. An example unique to DOOH is a digital billboard alongside a busy freeway or road, where potential customers can see multiple messages from your brand while sitting in traffic.
DOOH media can include:
Digital Billboards
Digital Mall kiosks
Digital Transit Shelters
Digital Mobile Billboards
Dynamic Taxi Tops
To maximize effectiveness, a DOOH campaign can be executed in partnership with digital advertising experts. These strategy partners use data science to identify target audiences, effective messaging, ad placement and more. The campaign planning process puts your company's story front and center, helping you tell that story in the right places and at the right times.
Once you understand the basics of DOOH advertising, you'll move on to finding creative ways to purchase and implement it. That's where programmatic DOOH comes in.
Advantages of Programmatic Digital Out-of-Home Advertising
Programmatic DOOH is a method of purchasing digital advertising that combines automated and traditional approaches, and is most efficient when utilized with help from an OOH expert to plan, buy and measure your campaign. It allows you to share your message across multiple platforms at once and optimize where needed. For example, options include an apartment building screen, a digital billboard and an EV charging station all in an area frequented by your target audience.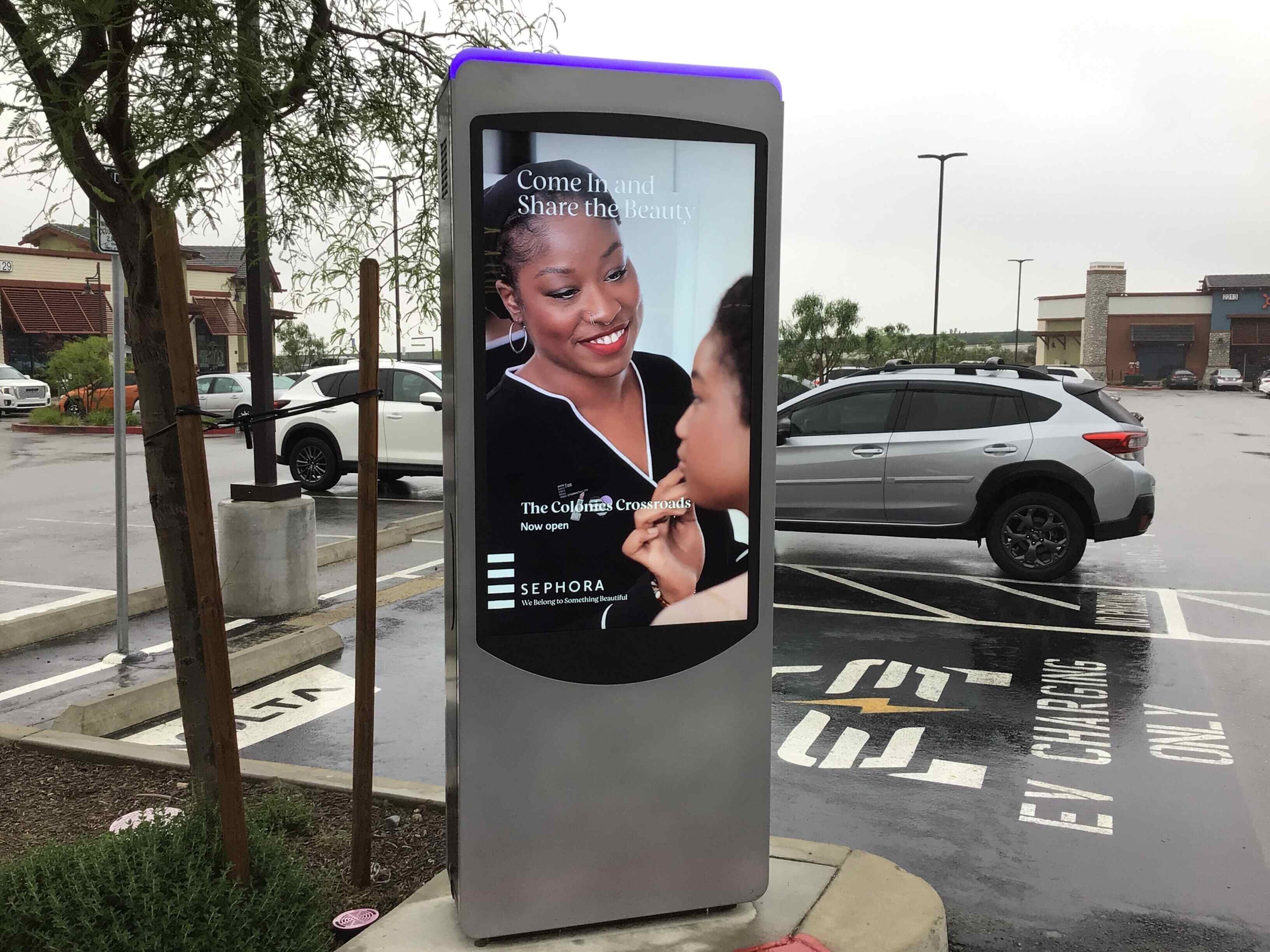 Here's why programmatic DOOH advertising is worth considering as part of your overall out-of-home advertising strategy.
Advanced Audience Targeting
Outdoor advertising travels with your target audience. It tells your story in locations where clients can potentially interact with it — for example, a digital billboard on the freeway telling drivers which exit leads to your business. This creates a unique advantage over in-home advertising, as consumers may find it easier to respond to a call-to-action when they're already in the area.
Creative Freedom
Digital OOH advertising isn't constrained by physical formats. You're free to make creative choices you wouldn't otherwise have access to, giving you the chance to communicate messages in more unique ways.
Message Flexibility
Programmatic DOOH advertising maximizes the efficiency of your messaging. You can create varying ads for different locations and formats, targeting various areas of the customer journey — both in terms of their physical location and their relationship with your brand.
Cost-Efficiency
The nature of programmatic DOOH is to expand the reach of your advertising campaign in the most efficient way possible. Because this approach combines multiple tactics and makes savvy use of automation, it is a cost-effective way to communicate with your audience.
While programmatic DOOH is a sound method of purchasing digital advertising, it is not a complete strategy. You'll still need to create rules, goals and expectations for your campaign depending on the nature of your brand and, naturally, you will need to overcome certain challenges along the way.
Overcoming Challenges in Building a DOOH Strategy
Advertising is, in many ways, equal parts art and science. This means it can come with challenges, especially since it's designed to cater to constantly evolving consumers. However, DOOH campaigns have the tools and approaches necessary to tackle those challenges.
As you implement DOOH advertising, you may encounter some barriers. With help from an out of home advertising partner, you can create a strategy that solves each of these problems before they arise:
Challenge: Understanding DOOH vocabulary
The digital advertising landscape comes with much of its own language. Failing to understand this background information can impact your DOOH strategy before it ever gets off the ground.
Solution: Partner with an advertising expert to help navigate and negotiate.
An OOH advertising partner can help you brush up on vocabulary, understand the digital markets you're entering and strategically negotiate purchases. This is especially important when it comes to one DOOH element you may be less familiar with: ad exchanges.
An ad exchange is a digital marketplace where advertising space is bought and sold. To navigate them confidently, it's beneficial to have a partner familiar with the landscape and with the negotiations involved. Ad exchanges give you access to multiple digital advertising locations at once, rather than having to choose and buy each location separately — so it's important to approach the process with a strategy and know which assets will benefit your DOOH campaign.
Challenge: Overcoming Tighter Privacy Restrictions
As privacy regulations continue to change in response to new concerns, you may worry that your DOOH campaign could struggle. This may be true — but only if you fail to consider privacy-friendly approaches in your calculations.
Solution: Stay up-to-date on privacy regulations and respond accordingly.
In this case, flexibility is one of your most vital tools. Your digital OOH strategy should be built to adapt to unexpected limitations in your ability to reach, track, understand and engage with your target audience.
On a more positive note, DOOH is less impacted by privacy regulations than other advertising campaigns like social media. This is because DOOH advertising relies on data around more generalized patterns of engagement and follow-through. As long as you structure your strategy appropriately, you can utilize certain types of data to continue marketing to your target audience without being unreasonably restricted by privacy regulations.
Challenge: Modifying Message Tone
The tone of your messages is, perhaps, just as important as the content. This is especially true with DOOH advertising, where each potential location and format comes with its own expectations for approach, style and language.
Solution: Modify messaging based on your target audience's unique expectations.
Although it can feel overwhelming to juggle so many elements, DOOH advertising gives you all the tools you need to use each variable to your advantage — most importantly, utilization of audience expectations.
Let's say your digital advertising campaign involves a billboard and a message inside a mall. The messaging for each of these formats must be self-aware — that is to say, it must match your audience's expectations based on placement and geographical location. Someone shopping at the mall may not be in the same stage of the customer journey as someone driving past a billboard on a busy street. Similarly, they may be more or less receptive depending on the activity they're performing when they see your message.
For example, the person at the mall may be waiting for someone else to finish shopping; they may be bored and looking for something to occupy their mind. Based on that knowledge, you could design a message to entertain them or provide an opportunity to actively engage with your brand. Meanwhile, the person driving past a billboard may be rushed or, if stuck in traffic, frustrated — so it's vital for your advertising to be aware of this. A brief message avoiding in-depth topics or overly intricate visuals may have a better chance of resonating with this particular subset of your audience.
With this in mind, a digital advertising strategy partner can help you create different versions of your message for each format. This takes advantage of an important DOOH benefit — the versatility of outdoor advertising — and helps your ads create opportunities for engagement rather than feeling out of place. For example, a rail station ad may include a QR code readers can scan and explore as they wait for their train, while the billboard could include simplified content so readers can absorb the message while they drive.
Challenge: Attributing Results
Even once you've built your ideal DOOH advertising campaign, you still have to ensure that your processes remain efficient. To do that, you need to be able to review your successes and failures: what worked, what didn't and which portions of your campaign are delivering the most effective results. However, unlike other forms of advertising, DOOH has fewer options when it comes to attributing those results to a specific ad, location or message.
Solution: Work with an advertising partner who utilizes advanced reporting.
Advanced reporting tools can help you understand and measure your campaign's return on investment. Your OOH advertising partner analyzes performance data based on some of the following variables:
Media Type
Location
Foot Traffic
Web Traffic
Sales Conversions
This information allows you to adjust your DOOH advertising strategy as necessary to keep your target audience engaged. Results-based changes put you firmly in control of your messaging and brand engagement.
What You Can Do with DOOH: Media and Campaign Options
Before you get started creating your digital advertising campaign, it's necessary to understand what's possible. Here are a few examples of what you can do with DOOH.
Digital Billboard
Digital billboards give you a chance to share somewhat brief but eye-catching messages. They also allow you to tailor your approach depending on location.
For example, a commuter street digital board might have messages targeting members of your audience who are traveling or commuting. You can plan these messages to be dynamic, switching depending on the time of day or the traffic conditions.
QR Codes
QR codes encourage immediate engagement with your target audience. They should be a small portion of your message but also give readers a chance to take the next step in exploring your brand. Since they can be tailored to lead to any portion of your website, they can be used in messaging at any step of the customer journey.
For example, a QR code on a digital transit shelter could lead customers to learn more about your brand, while one on a digital mall kiosk could encourage them to shop.
Weather-Reactive Ads
Certain DOOH advertising strategies can make use of their environment — for example, the weather. Different weather patterns can trigger advertisements that connect more effectively to your audience's location, activity and potential needs. This keeps your ads from being rendered irrelevant and helps you take advantage of natural surroundings to emphasize your message.
These are just a few options you can explore with DOOH advertising campaigns. Depending on your target audience, some approaches may be more effective than others, which is why it's helpful to have an advertising strategy partner on your side when you're preparing for gameday.
In summary, digital out of home advertising has expanded on the framework created by traditional approaches. It's faster, often more cost-effective and far more versatile than techniques like newspaper ads or direct mail marketing. It also provides programmatic options that make the process even simpler. Although challenges are inherent in any advertising process, DOOH strategies can be designed to overcome these hurdles and create flexible, creative messaging that engages your target audience.
The most important part of any DOOH advertising campaign is the partner you choose to help you create it. Get in touch today to start creating a strategy that puts your message in front of the right people.
Posted by permission⇒ https://www.billups.com/contact?hsCtaTracking=de54b882-9340-4ea4-9a81-c4197f7a50ad%7C2a9086ae-a73e-4f71-90d9-642a47f658d5
Help us Help You by keeping the only Independent Voice for OOH.
Keep unconstrained speech for the OOH/Billboard Industry,
please click here to ⇒Subscribe to OOH Today