Behind-the-Billboard With Clear Channel Outdoor
How DFW's largest Wallscape Goes Augmented Reality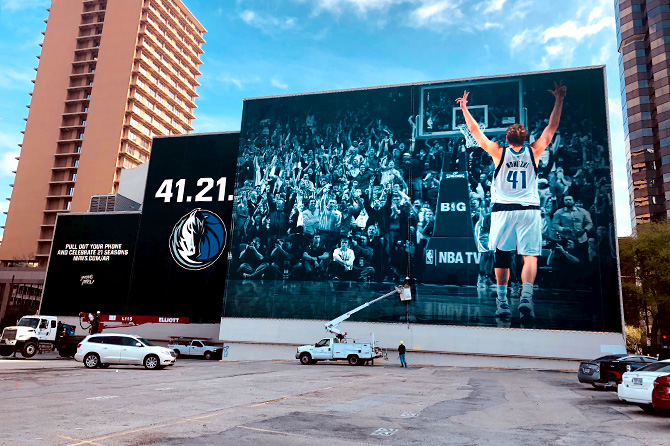 POSTED BY BROOKE MORI
In a city commonly referred to as Cowboys' Country and inside a state whose slogan starts with "Everything's bigger…", the Dallas Mavericks knew they had to GO BIG to standout in the Dallas/Fort Worth market. Heading into the 2018-2019 season, they had a clear mission: To excite, inspire and unite communities through entertainment, service and memorable experiences, creating Mavs Fans for Life.
If you've ever attended a Dallas Mavericks game, you've seen firsthand how the entertainment inside the arena spans far beyond the basketball played on court. Each and every game is uniquely memorable for those in attendance with immersive experiences scattered throughout the entire stadium. But this year's mission was to unite "communities," and not just the fans inside the building. So, how did Clear Channel combine the Mavs' experiential marketing initiatives with their dominant OOH presence outside of the stadium?
Augmented Reality!
In addition to securing roadside inventory, The Mavericks contracted DFW's largest Wallscape located in the heart of downtown Dallas and just a few miles from the stadium. Unbeknownst to our team at the time, this static Wallscape would become the perfect canvas for local creative technology studio, Groove Jones. Leveraging "Spark AR," Facebook's own Augmented Reality platform, Groove Jones was able to make then fan-favorite, Dennis Smith Jr., come alive to dunk a basketball across the length of the wall, making it the biggest AR execution ever done in the United States!
Created just in time for the Dallas Mavericks home opener, fans were driven to visit Mavs.com/AR to access the Facebook filter, and once the AR experience was activated Smith sprung to life for a slam dunk! Watch the videos:
Within the first week, this ground-breaking AR + OOH execution generated over 15,000 views and shares across multiple social platforms and garnered coverage from numerous media outlets, including MediaPost and Marketing Dive.
The success of this first AR campaign resulted in a Bronze OBIE at the 2019 OBIE Awards in Las Vegas, with two additional executions during the 2018-2019 season featuring #1 Draft Pick, Luka Doncic and the now retired Mavericks' legend, Dirk Nowitski, each with increasingly sophisticated AR capabilities. LET'S DO IT AGAIN!